https://his.ussh.vnu.edu.vn/en/news/news/prof-dr-nguyen-van-khanh-vietnamese-and-vietnamese-studies-are-drawing-interest-from-international-scholars-4214.html
On December 12th, 2014, speaking at the opening ceremony of the international conference "Teaching Vietnamese language and studies at universities" at USSH, Prof.Dr Nguyen Van Khanh (Rector) shared his views on the role and position of teaching of Vietnamese language and studies in the context of globalization.
"The evaluation of Vietnamese language and studies is one of the crucial tasks of domestic and international scholars, and is becoming a particular interest of international scientists" – Prof. Nguyen Van Khanh said. This is even more the case when globalization is strongly affecting research exchanges and cooperation. Besides, inter-disciplinary research is currently a vital component of this process.
"The conference will facilitate the connection between scholars of Vietnamese studies, the promotion of Vietnamese language as a core of Vietnamese culture during the process of international integration" – He spoke of his expectations of the Conference.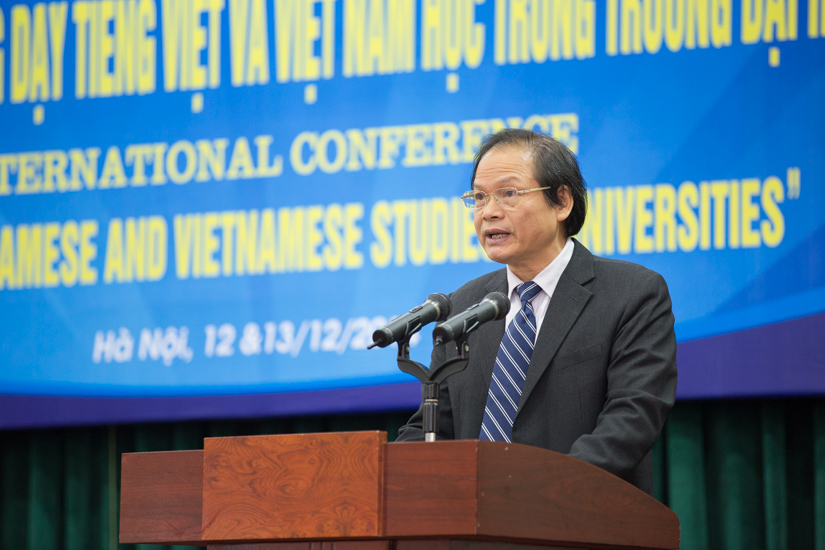 Prof.Dr Nguyen Van Khanh gives his opening remarks (Photo: Thanh Long)
The conference attracted scientists and experts from 9 countries: Laos, Thailand, Singapore, Australia, China, South Korea, Japan, Taiwan, the United States and Vietnam. It received 100 papers, 23 of which were by scholars, experts and lecturers of great universities such as Harvard University, California State Fullerton University (US), Tokyo University, Tokyo Foreign Languages University, Asia-Pacific University (Japan), NUS (Singapore), Beijing University, Australia University, Chulalongkon University, etc.
The papers discussed the central issues of Vietnamese and Vietnamese studies such as teaching methods and programs; the methods of teaching and evaluating the Vietnamese language capability as a foreign language; issues on Vietnamese language studies; and Vietnamese studies from an inter-disciplinary perspective (literary, historical, cultural, social, etc.). 
The University of Social Sciences and Humanities, Vietnam National University with Vietnam General University being its predecessor, has around 60 years of teaching Vietnamese language and culture for foreigners. Thousands of foreigners have studied Vietnamese language, culture, literature and history, etc. and many have become famous scholars, senior diplomats and interpreters, etc. There are 15 alumni that have become Ambassadors to Vietnam.