https://his.ussh.vnu.edu.vn/en/news/news/the-role-of-vietnamese-and-korean-women-cultural-customs-4300.html
This is the topic of a specialized lecture given by Dr Lee Kye Sun (University of Thang Long, Hanoi) before students of the Division of Korean Studies (Faculty of Oriental Studies) at USSH on March, 9th, 2016.
Dr Lee's lecture focused on the role of women in Korean and Vietnamese societies under a comparative perspective. She remarked there are both similarities and differences between the role of Vietnamese and Korean women. The established "masculine" idea on the role and position of women is fading as their status is increasingly recognized. Women in both countries have been participating in economic, political and social causes of their nations. Differences in marital affairs also constitute a fascinating point for sociologists. For example, the legitimate age for marriage in Korea is much higher than that in Vietnam due to financial factors. This results from the division of responsibilities as applied in Korean traditional marriages, in which men are responsible for building the house and women for preparing household equipment.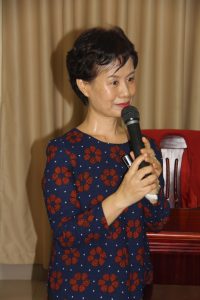 Dr Lee Kye Sun is an official lecturer at Faculty of Sociology, Thang Long University and a visiting lecturer at Faculty of Korean language, Hanoi University. She defended her doctorate dissertation in Sociology at USSH, VNU in 2010. She is a member of the Vietnam-Korea Women's Forum and has participated in ODA projects aimed at promoting and supporting professional skills for the women in Nghe An.  Her work focuses on feminism, family issues and kindergarten education.
This event is part of a series of KF lectures in Vietnam held by the Korean Foundation. The forum aims to enhance academic exchanges and discussions between Korean and Vietnamese senior politicians and scholars, contributing to the promotion of bilateral cultural and educational exchanges. 
Thanh Ha USSH